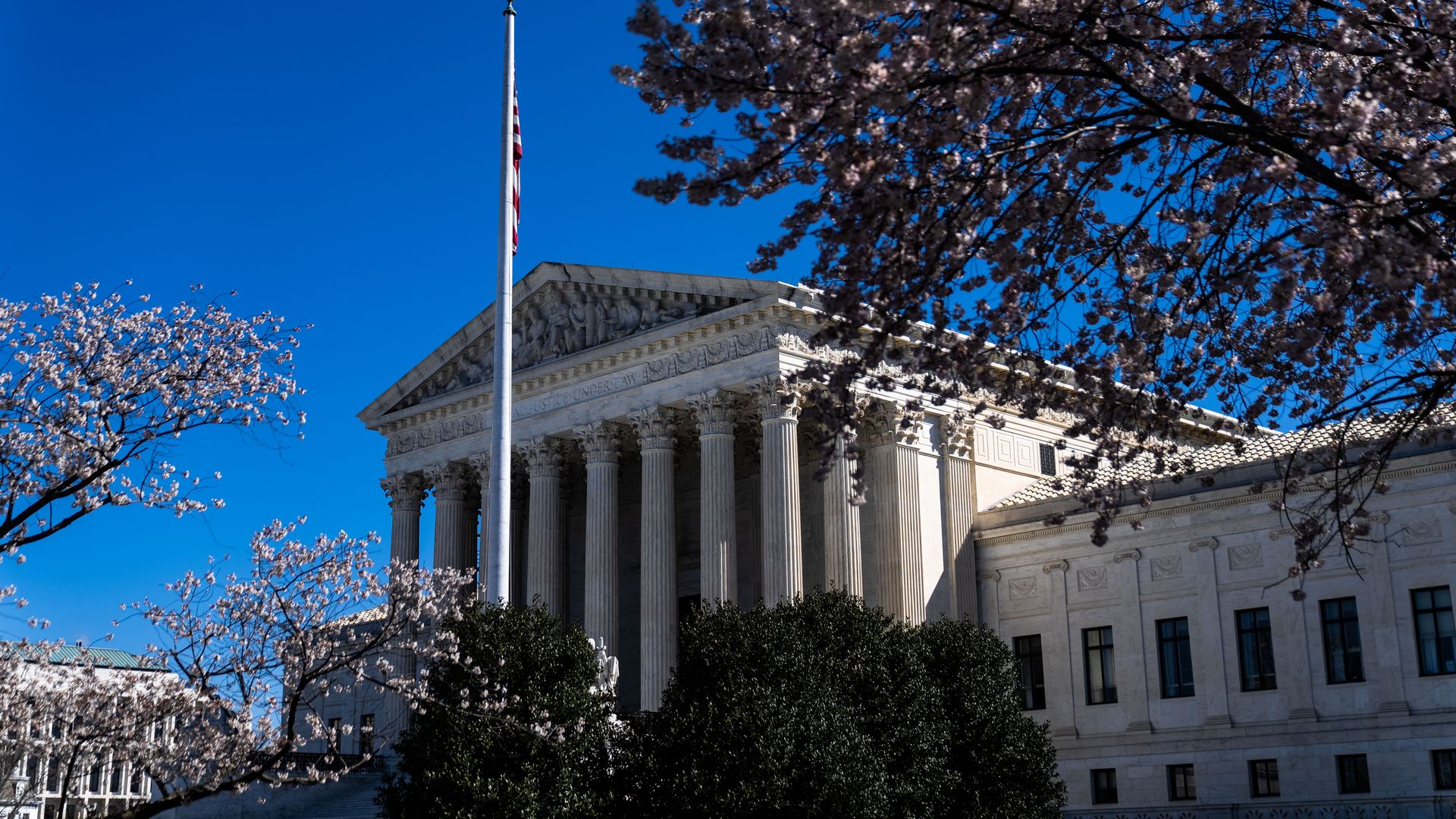 Photo: Kent Nishimura / Los Angeles Times via Getty Images
The Supreme Court Tuesday kicked off its first case involving crypto, though the issue at hand has nothing to do with cryptocurrencies.
Why it matters: The eventual ruling in the case brought by Coinbase, a crypto exchange, will have much broader implications — a bellwether case that could mark a new era for consumer protection across the business landscape, experts tell Axios.
Catch up fast: The issue at the core is a rule called the Federal Arbitration Act (FAA), which for a century has protected businesses from the expense and risk of going to court to settle customer disputes.
"Arbitration clauses" are found in all sorts of user contracts, sometimes coupled with another that bars class-action suits.
They're intended to compel customer disputes to be handled through-closed-doors resolution outside of the court system.
A lower court denied Coinbase's attempts to enforce arbitration against a pair of customer lawsuits, and the U.S. Court of Appeals for the Ninth Circuit denied the company's motions to stay the hearings — or hit pause — while it considers an appeal.
Driving the news: The Supreme Court Tuesday heard arguments related to whether those cases — Coinbase v. Bielski and Suski v. Coinbase — should proceed in court, even as the company's appeal is still pending.
Quick take: "The majority of the Supreme Court justices appeared skeptical of the automatic stay," Imre Szalai, a law professor at Loyola University in New Orleans, tells Axios.
With the exception of Justice Brett Kavanaugh, most appeared to take a textualist approach to the rule.
The big picture: "Any decision in the arbitration realm affects the behavior of corporations with respect to arbitration clauses, which ultimately impacts consumers," Jill Gross, a law professor at Pace University tells Axios.
"The no. 1 killer of class-action lawsuits is the arbitration clause — it's protection for businesses," Szalai said.
The question before the Supreme Court is whether a company can be compelled to go to court if denied arbitration while it still has a valid appeal, Jeffrey Dasteel, an arbitrator and retired UCLA professor on the subject, tells Axios.
"It's about how much time and money do [businesses] have to spend in court, when [they] agreed to not be in court in the first place," Gross said.
Zoom in: It's more likely than not that the average American has signed an agreement with an arbitration clause. AT&T and Verizon have one. Apple doesn't, but has piggybacked off of AT&T's with mixed success.
Fun fact(s): They're also in labor contracts. Famous people use them: Actor Charlie Sheen, President Donald Trump, plus pro-golfer Tiger Woods.
Flashback: When the FAA was drafted in the 1920s, it was aimed at protecting contracts between businesses; there was no such thing as the mass consumer at the time.
Meanwhile, those arbitration clauses upheld by the FAA started getting picked up by businesses in user agreements. They've since proliferated as the internet became a thing.
What they're saying: "The abuse of arbitration agreements has deprived consumers of choice… the choice of whether they want to have access to justice," Gross says.
"By necessity, being pro arbitration agreement is an anti-consumer position."
The other side: "Consumer arbitration is quicker and [features] tight proceedings, less discovery, less motion practice," Dasteel says, adding that companies tend to foot the bill.
What we're watching: Since the 1980s and 1990s, the court has expressed a pro-arbitration agreement stance, according to law professors who spoke with Axios.
Pro-arbitration agreement has meant pro-business.
The question now is whether justices will continue to present that position, or if they will use the Coinbase case to express a more pro-consumer stance.
Source: Read Full Article