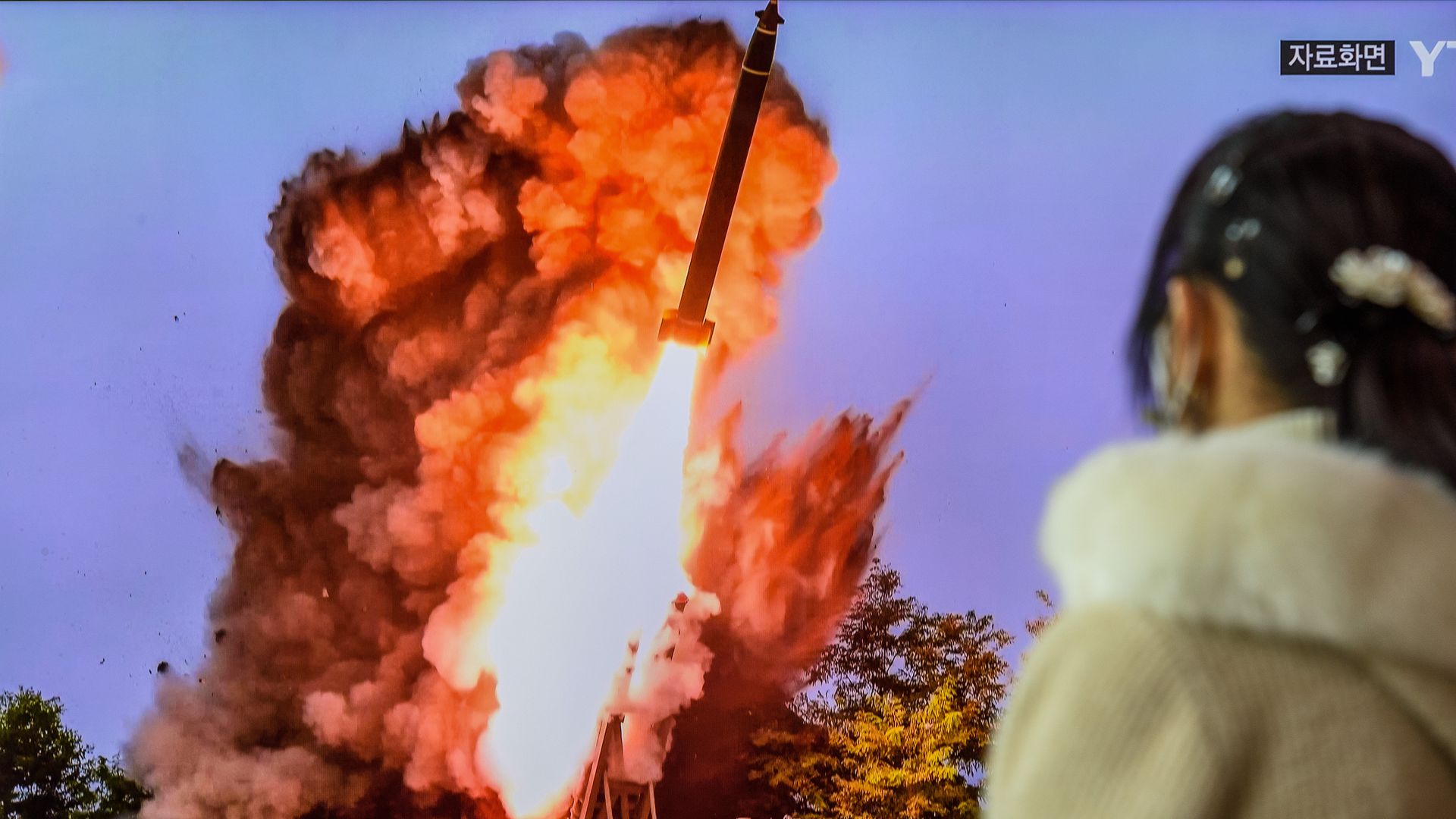 A woman watches a TV screen showing an image of an earlier North Korean missile launch during a news program at a railway station in Seoul, South Korea. Photo: Kim Jae-Hwan/SOPA Images/LightRocket via Getty Images
North Korea's state media said Friday its military conducted a "strategic cruise missile" drill off its eastern coast the previous day.
Details: KCNA claims that the North Korean military fired four "Hwasal-2" long-range missiles in the North Hamgyong Province. Seoul officials said there had been a launch but added without further elaboration that South Korean and U.S. intelligence detected differing flight details to Pyongyang's claims, per AP.
"The drill clearly demonstrated once again the war posture of the [North Korean] nuclear combat force bolstering up in every way its deadly nuclear counterattack capability against the hostile forces," KCNA said.
Of note: The latest missile launch occurred on the same day as the U.S. and South Korean militaries held a simulated "table-top" exercise in Washington, D.C.
The Pentagon said Thursday's drill was due to threats from North Korean leader Kim Jong-un about bolstering his military's nuclear arsenal.
The big picture: North Korean officials first said they'd successfully launched long-range cruise missiles in September 2021 and later claimed they'd built weapons capable of carrying nuclear warheads.
North Korea's military also conducted an intercontinental ballistic missile test last Saturday and fired two short-range ballistic missiles on Monday.
Pyongyang said Monday's test was in response to the U.S. holding joint air exercises with South Korea and Japan over its Saturday launch.
Between the lines: The North Korean military's demonstrations "might be considered missile exercising rather than developmental testing," the U.S.-based Center for International and Strategic Studies said in a report on Tuesday.
Source: Read Full Article