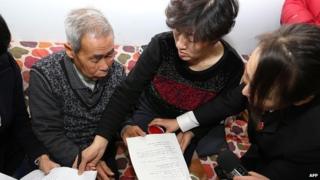 China's courts must learn from wrongful convictions and work to prevent injustice, the nation's top judge says.
In a report to the annual parliament session, Supreme People's Court Chief Justice Zhou Qiang said processes for correcting mistakes were needed.
His comments come months after a high-profile case sparked debate.
A court exonerated a teenager executed 18 years ago for rape and murder. Another man has since been convicted and sentenced to death for the crime.
"With regard to miscarriages of justice, we deeply reprove ourselves and demand that courts at all levels draw profound lessons, and further strengthen the effective prevention of unjust and false cases and timely correction mechanisms," the chief justice said.
He said courts reheard 1,317 cases in 2014 and corrected "a number of wrongful ones", according to Xinhua news agency.
Analysis, Celia Hatton, Beijing
Like many senior officials in China, China's top judge is vowing to improve. The courts will work to hand out the right punishments to the guilty, while allowing the innocent to go free.
If Chief Justice Zhou Qiang can follow through on this promise, everyone in China would surely benefit from the changes. Petitioners would be able to exhale, knowing their cases would be heard by an independent court. The indiscriminate power of the Chinese police and government prosecutors would certainly be lessened if China's weakest could rely on the law in the same manner as the elite.
However, there are reasons to doubt Mr Zhou's words. The structure of the government hasn't changed; the ruling Communist Party remains in charge of the courts.
By next year, China might have improved the statistics regarding its 99% conviction rate. However, until there is proof that the courts have the power and the courage to rule against ingrained government interests, true judicial reform remains a distant goal.
China's courts have a very high conviction rate – in 2013, it stood at 99.9%, according to the top court.
Rights groups highlight political control over courts, judicial corruption, the use of force by police to extract confessions and inadequate access by defendants to lawyers as factors in this.
In one potential step forward, in January the Communist Party said targets for arrests and convictions would be abolished, according to a report carried by Xinhua news agency.
But China remains the world's most prolific user of the death penalty, according to rights groups.
The case that attracted nationwide attention involved Huugjilt, an Inner Mongolian teenager who went by one name, who was 18 when executed for rape and murder in 1996.
Xinhua reported that Huugjilt had tried to help save the woman after hearing her cry out from a public toilet. He reported the crime to police – but was then put on trial for it.
In 2005 serial rapist and murderer Zhai Zhihong confessed to police that he had attacked the woman.
There have been other well-reported cases. In May 2010 a man jailed for murder was freed when his supposed victim reappeared. He said police beat a confession out of him.
Source: Read Full Article